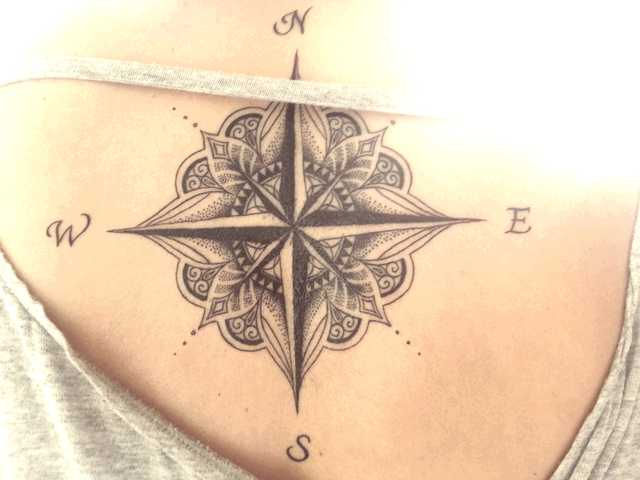 Ja, hij staat! Ik straal!
Iets wat altijd al in mijn hoofd heeft gezeten is dat ik een tattoo van een kompas wil. Ik heb al een kleine tattoo op mijn ribben (ter nagedachtenis aan mijn moeder, een zin uit haar favoriete nummer Micheal Jackson – Smile, 'Smile, and maybe tomorrow'.) Ik wilde een kompas om twee redenen. Ik ben natuurlijk een reizigster pur sang en reizen is mijn grote passie. Ik en mijn backpack hebben al menig land ter wereld doorreist en op die momenten ben ik het aller-aller gelukkigst. 'I am a traveller, not a tourist'. Ten tweede vind ik een kompas ook erg mooi omdat het een symbool ter begeleiding is, je weg in de wereld vinden.
Dit idee ben ik al lange tijd aan het uitwerken. Ik wilde geen standaard kompas en ben zelf aan het schetsen geslagen. Ergens onderweg (in Laos welteverstaan, omgeven door monniken) is het idee van een mandala naar binnen geslopen, en besloot ik deze twee te combineren. Ik heb deze combinatie nog nooit gezien en zeker niet als tattoo, dus het is uniek en het is Laura. Ik heb een hekel aan hype-tattoo's en tattoos die je uit een boekje aanwijst en laat zetten.
Een mandala (circel in het Sanskriet, een symbool uit het Hindoeïsme en Boeddhisme en daar heb ik een ongelooflijk zwak voor, prachtige mensen tijdens mijn reizen) symboliseert de oneindigheid van het bestaan, 'bevatter van essentie'. Een mandala kan gebruikt worden als hulpmiddel om te mediteren en er kan inzicht verkregen worden in bepaalde wijsheden. Elke vorm van de mandala biedt via de symbolen zijn eigen inzicht aan en draagt zijn eigen energie uit, en daarom vind ik het zo mooi dat dit mijn eigen ontwerp is. Het is mijn kracht.
Deze combinatie ben ik -in 7 uur tijd- met Gerrit Groothaar van Sailors & Crooks en mijn vriend gaan uitwerken. Daarna is hij in 4 uur tijd prikken op mijn rug vereeuwigd. Lang, ja. Auw, ja. Ik ben blij, trots op eigen ontwerp en dat ik over elk lijntje en stipje en dingetje heb nagedacht (en ook een beetje op het feit dat ik nauwelijks een kik heb gegeven).
Even over Sailors & Crooks in Almelo, Gerrit is de creatieveling achter dit bedrijf en tatoeëert fantastisch. Ik heb er twee uur voor moeten reizen maar ben meer tevreden dan ooit! Hij weet je wensen precies om te zetten naar wat je in je hoofd of zelf op papier hebt en neemt alle tijd om je gelukkig naar huis te laten gaan. Hij zet niets waar hij zelf niet achter staat of als hij het idee hebt dat je twijfelt, het gaat hem echt om het gevoel en je naar huis te laten gaan met perfectie. Ook de sfeer bij Sailors & Crooks is geweldig. Een fijne persoonlijke benadering, alle tijd voor je ideeën en -mocht ik ooit nóg iets willen- zal ik zeker terugkomen!
Beeldmateriaal, hij is net gezet dus moet nog genezen/indalen/maar ik kan gewoon niet wachten! :-)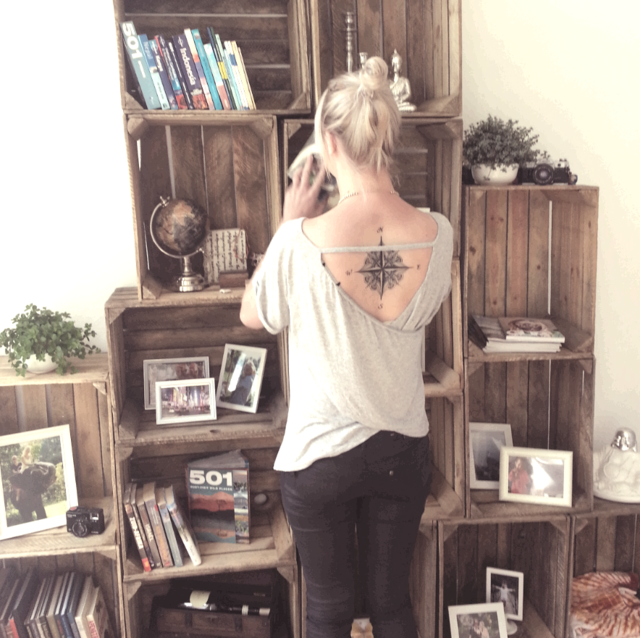 Laat dromen en verbeelding je kompas zijn.